Dear Mr. roma,
Thank you for contacting me regarding the financial troubles of the United States Postal Service (USPS). It's good to hear from you.
I realize the United States Postal Service is in a difficult financial situation. Unfortunately, the USPS lost $5.1 billion in 2011 and is projected to lose another $11.1 billion in 2012. In order to cut costs, the USPS has announced plans to shut down over 200 mail processing facilities and over 3,000 retail locations.
Several proposals have been introduced in both the House and Senate to help the USPS achieve savings and preserve current mail standards. Recently, S. 1789 the 21st Century Postal Service Act of 2012, which seeks to preserve mail standards and keep processing facilities and retail locations open, passed in the Senate. This legislation was passed with an amendment to maintain all current door delivery services. While far from perfect, S. 1789 has bipartisan support and will strengthen the USPS for generations to come.
Rest assured, I will keep your views in mind as legislation regarding the future of the United States Postal Service is considered in the House of Representatives. Thank you again for sharing your thoughts and concerns. I invite you to follow me on Facebook, www.facebook.com/repmichaelgrimm, and Twitter @repmichaelgrimm or visit my website at www.grimm.house.gov. Should you have any further comments or questions, please do not hesitate to contact my office.
Sincerely,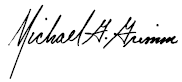 ?
Congressman Michael Grimm